Corporate Social Responsibility
Corporate Social Responsibility
Corporate Social Responsibility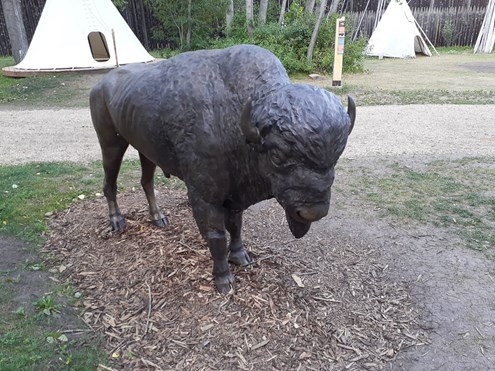 Fort McKay Group of Companies is proud to support causes that help bring prosperity and equity to Indigenous peoples living in Canada. Our partners and relationships are important to us because we are a part of the local community. Profits generated from our operations flow back into the community through various supports.
We support Fort McKay First Nation FMFN and the local community of Wood Buffalo Region by supporting local initiatives and playing an active role in the community. We provide economic opportunities for FMFN through our contributions to develop the community in areas of health and wellness.
In June 2021, FMGOC contributed to the development of Fort Edmonton Park in Edmonton, Alberta. A bison statue was named in FMGOC's honour for our contribution to preserving Indigenous history.
 Community contributions and sponsorships include:
Contribution to the development of the new education centre in Fort McKay
Support and annual sponsorship of Fort McKay First Nation Treaty Day 
Supporting local community events (example: Easter egg hunts) by providing supplies and materials
Sponsoring Northern Lights Health Foundation events
Supporting and sponsoring local community children and youth programs and sports teams
Donations through FMGOC owned businesses such as BME LP's contributions to support the local HERO Foundation
Contributions to the Fort Edmonton Park Foundation in support of their renovation
To preserve and propel the Fort McKay First Nation and better the lives of Indigenous peoples.